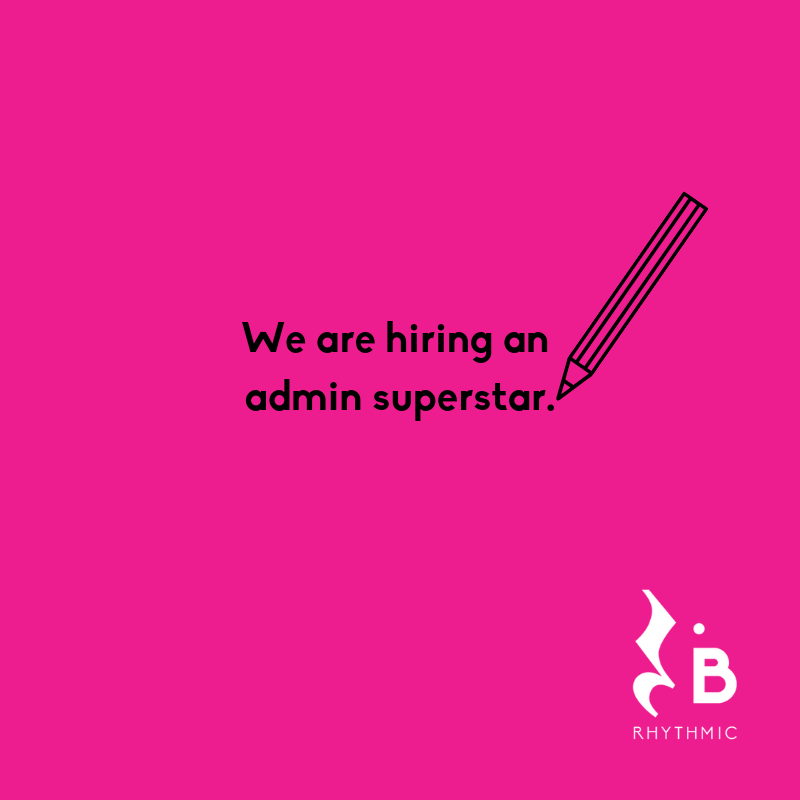 Would you like to work in the Creative Industries?
We have a casual position available for a Personal Administration Assistant, initially starting at 4 hours per week 10am – 2pm, with the potential to increase to 8-12 hours per week, after training. You will be working alongside Bron Harrison, founder of BRHYTHMIC.
ABOUT US
BRHYTHMIC Pty Ltd is a progressive drum & percussion studio based on the East Coast of Australia. We are looking for a local admin to start in our Byron Bay Studio in March.
ABOUT YOU
You will:
be a quick learner
be tech savvy
be methodical
be solutions focused
be great with words
have the ability to meet deadlines
be the kind of person who takes notes
be creative
not afraid to get your hands dirty
be a team player
have the ability to roll up your sleeves
be focused
have your own transport/drivers license
be kind and fun.
NEEDED & PREFERRED SKILLS
MS Office
MailChimp
Trello
WordPress + WooCommerce
Facebook + Ads
Instagram
Proofreading, spelling, and grammar
to name a few…
REQUIREMENTS
Send a two-to-five minute selfie-video of you explaining the following:
Introduction
Your name.
Where you are located (must be in proximity to the Byron area and willing to fly to Sydney for the occasional trip).
Where you are currently working or what you are currently doing with your time.
Why you are looking for work and what you hope to achieve by joining our team.
What your previous experience is and how much experience you have with the aforementioned NEEDED & PREFERRED SKILLS on a scale of 1 to 5, 1 being 'not at all' an 5 being 'I've totally got this covered' please rate yourself and some commentary around each one.
How you align with the BRHYTHMIC vision.
Where you see yourself in 5 years.
Videos are not critiqued on video quality or your public speaking ability, rather the content of your message. It's ok to refer to notes. Creative efforts and your ability to communicate the above requirements in a concise and meaningful manner are viewed favorably.
REMUNERATION & STRUCTURE
Remuneration is guided by industry standards and to be negotiated dependent upon experience. Both casuals or freelance/contractors are welcome to apply.
Send your Youtube/Vimeo video link and your CV to bron@brhythmic.com.au by COB 20 February. Thank you.