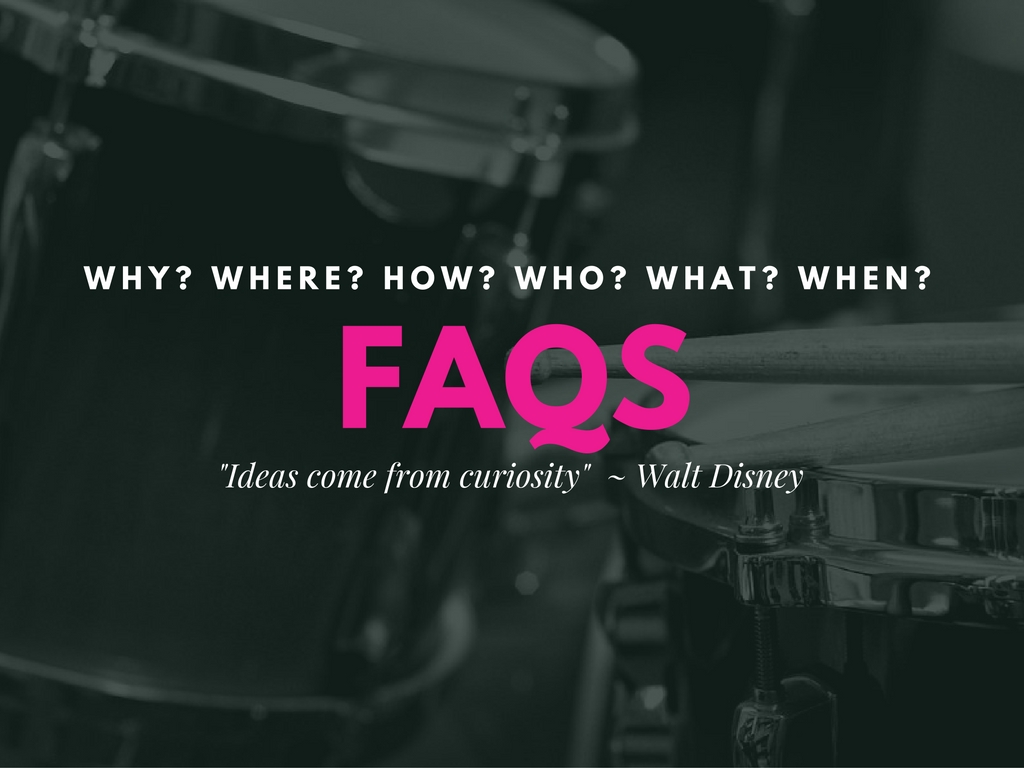 If you are a BRHYTHMIC Member, access your Members FAQs here.
How do I cancel a lesson?
To cancel a lesson, there is an easy online process that takes less than two minutes. Log into your account, go to your calendar and cancel online. Instructions on how to Cancel your lesson can be found at Members FAQs, as well as the INFO page in the Members Area. Students that cancel their lesson without 24h notice will be charged the full lesson rate. Students that provide notice are subject to a make-up lesson. See MAKE UP LESSONS.
When do callout fees apply?
Call out fees apply if we teach at your home. They are charged for any teaching which is not back-to-back in the one location for under 3 hours.
What if I want to cease tuition?
Four weeks' notice before term-end is required if ceasing tuition. Cessation of lessons can only occur at the end of the term. Without notice, full payment is required for the following term. Instructions on how to cancel your account can be found in the Members FAQ section in the Members Area. We regularly have a waiting list or other students wanting to fill your spot, and every term turn away students because we can not accommodate their time preference, therefore full payment for the term is required if four weeks' notice is not given. Thanks for your understanding in this regard.
How much is the enrolment fee?
There is an annual enrolment fee of $59 which is fully refundable to new students in the case where we are unable to accommodate your enrolment request within two weeks. The enrolment fee contributes to covering some of the costs associated with annual and ongoing administration and accounting fees. The enrolment fee is refunded to you when you cease tuition at BRHYTHMIC provided you give four weeks notice prior to the end of the term.
If you cancel your subscription for any reason, you will be required to pay the enrolment fee again if you choose to sign up again in the future.
How much are lessons?
All lesson rates can be found in our Programs and Packages. Tuition and Conducting rates are guided by the NSW Music Teachers Association.
Can I have a holiday or weekend lesson?
How does payment of lessons work?
We offer a subscription for 9 x 1:1 lessons + 1 x group lesson per term. Each subscription is charged two weeks prior to the following term.
Your 9 lessons + group lesson are valid from the date you start the subscription until the end of the school holidays (except the fourth term where all lessons must be taught before the end of Term 4). Thereafter 9 lessons + 1 group lesson are scheduled each term until you cancel your subscription.
Parents are welcome to start a subscription and cancel at any time. Credit card payments are processed two weeks before the term starts and scheduling is completed during the two weeks prior to term starting. We do not offer individual invoices for lessons.
How many make up lessons can I have per term?
One. Make-up lessons will be arranged where possible and are the responsibility of the student to arrange. One make-up lesson per term is applicable. Make-up lessons are valid for 10 weeks. If a student does not arrange for their make up lesson within ten weeks it will expire. All make-up lessons must be made up by the end of Term 4. Make-up lessons do not carry to the following school year. No credits will be given on non-redeemed make-up lessons. Make-up lessons will be conducted throughout the term depending on the availability of tutors and students. It is the student's responsibility to book in make-up lessons with their tutor. BRHYTHMIC will contact students to arrange make-up lessons for lessons that we have canceled by us. BRHYTHMIC also offers a substitute tutor if your tutor is away.
What if I forget my lesson or I don't show up?
Students that do not turn up to their lesson without 24h notice will be charged the full lesson rate and are not made up at a later time.
Can I get a refund for lessons?
All fees are non-refundable.
What is in a starter pack?
BRHYTHMIC sells starter packs for new students who do not purchase a subscription package that includes a free starter pack. You can order one or see what is in your starter pack, check it out here.
What school term dates does BRHYTHMIC tutor?
BRHYTHMIC operates as per the NSW public school terms. See the BRHYTHMIC Calendar. Lessons are not held in school holidays (unless by special request, see: HOLIDAY LESSONS in T&Cs) or on public holidays or pupil free days. Most schools have student free days on the first Monday of terms 1, 2 & 3.
Can I have a BRHYTHMIC Package at school?
So long as it is ok with your school, you can absolutely have a BRHYTHMIC Package and choose to have your lessons at school. You are required to get permission from your school.
If you choose the SCHOOL Package, you are bound by the terms and conditions and rules set out by your school, in so far that if they explicitly conflict or are different to the BRHYTHMIC Terms and Conditions. your school rules will apply, so long as your school or school committee has explicitly agreed with BRHYTHMIC as to what their T&Cs are prior to lessons starting. Different schools have different terms and conditions: including lesson rates, payment terms, the notice required to cease lessons, make-up lessons, notice for lessons, rules around if you are unable to attend your lessons and tutor fees paid to the school etc. BRHYTHMIC has agreements with schools and in the case where the schools' terms and conditions are incomplete or not stated, the BRHYTHMIC terms and conditions apply.
If you choose a BRHYTHMIC Package, you are bound by BRHYTHMIC's terms and conditions.
Can I have the School Package at home?
No. The School Package is only for lessons conducted at school and is subject to your school's availability. If you would like lessons outside of school or your school's schedule does not work in with your schedule, check out our BRHYTHMIC Package.
What if I want to start lessons half way through the term?
Not a problem, you have two options:
order one of our packages and we will schedule 9 lessons before the end of the school holidays. This may mean having 2 x 30 min lessons for some weeks, or some additional lessons on the weekend.
If the school holidays are too close to have 9 lessons, order a couple of INTRODUCTORY LESSONS instead, then when registrations open for the next term for lessons, we will notify you.
When and where are the group lessons held?
BRHYTHMIC Group lessons  are held during the school term. See the Calendar for dates, check the colour coded dates marked on this years calendar. Group Lessons are cycled to accommodate as many schedules as possible. In term 1, the group lesson is held on a Monday; Term 2 on a Tuesday, Term 3 on a Wednesday and Term 4 on a Thursday. Group lessons are held online, all the details will be sent to you in the lead up to the event.
What if I can't make the group lesson?
No problem, all our group lessons are recorded and made available for viewing after the lesson.
How to apply for your Creative Kids Voucher
Go to the ServiceNSW website and check your eligibility for the voucher and what method of identification you can provide. Click "apply now" and fill in the required information, you may need to create a ServiceNSW account if you don't have one, don't worry it doesn't take long to create.
Once you have completed the process, Service NSW will email you the voucher. Please forward this email to [email protected] for processing and we will refund $100 onto the bank card you have linked to your brhythmic subscription.