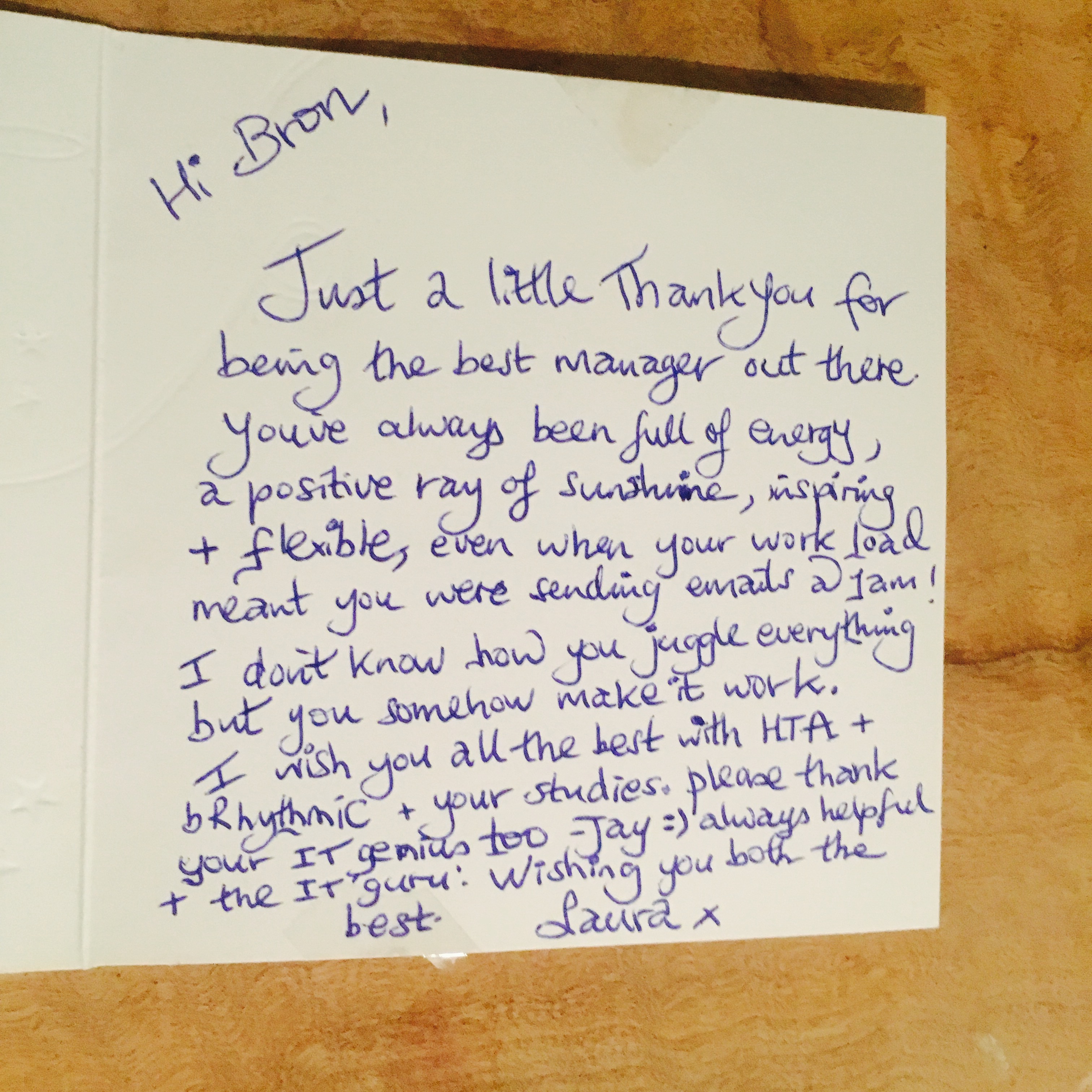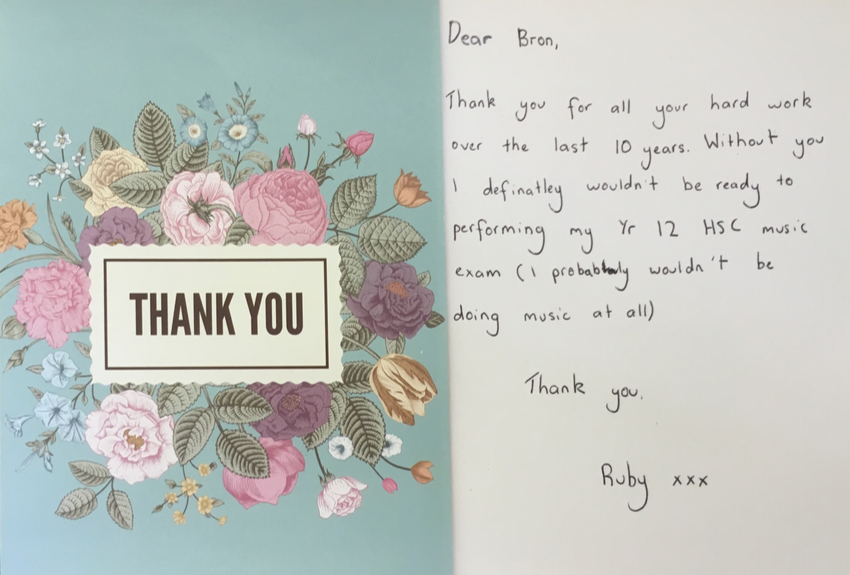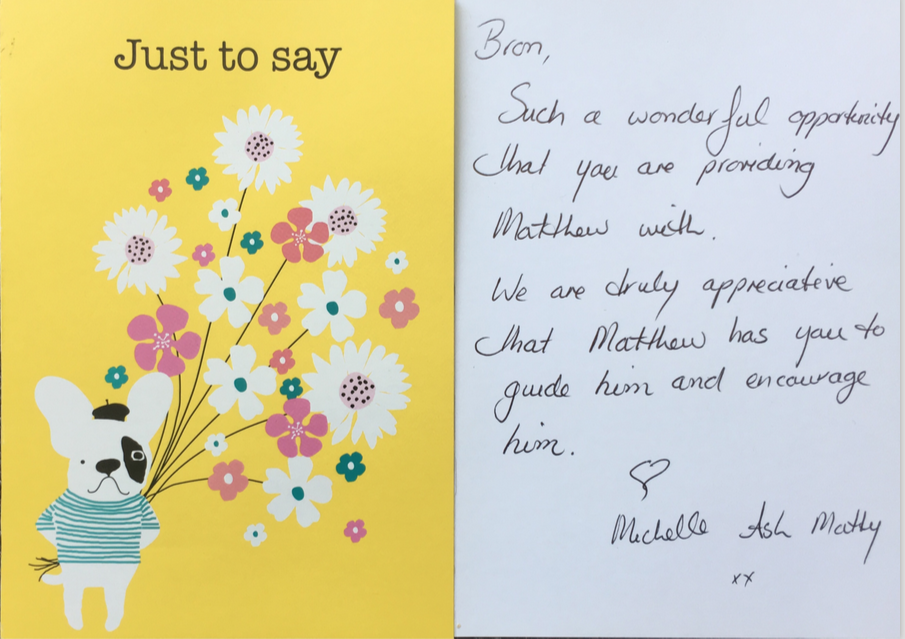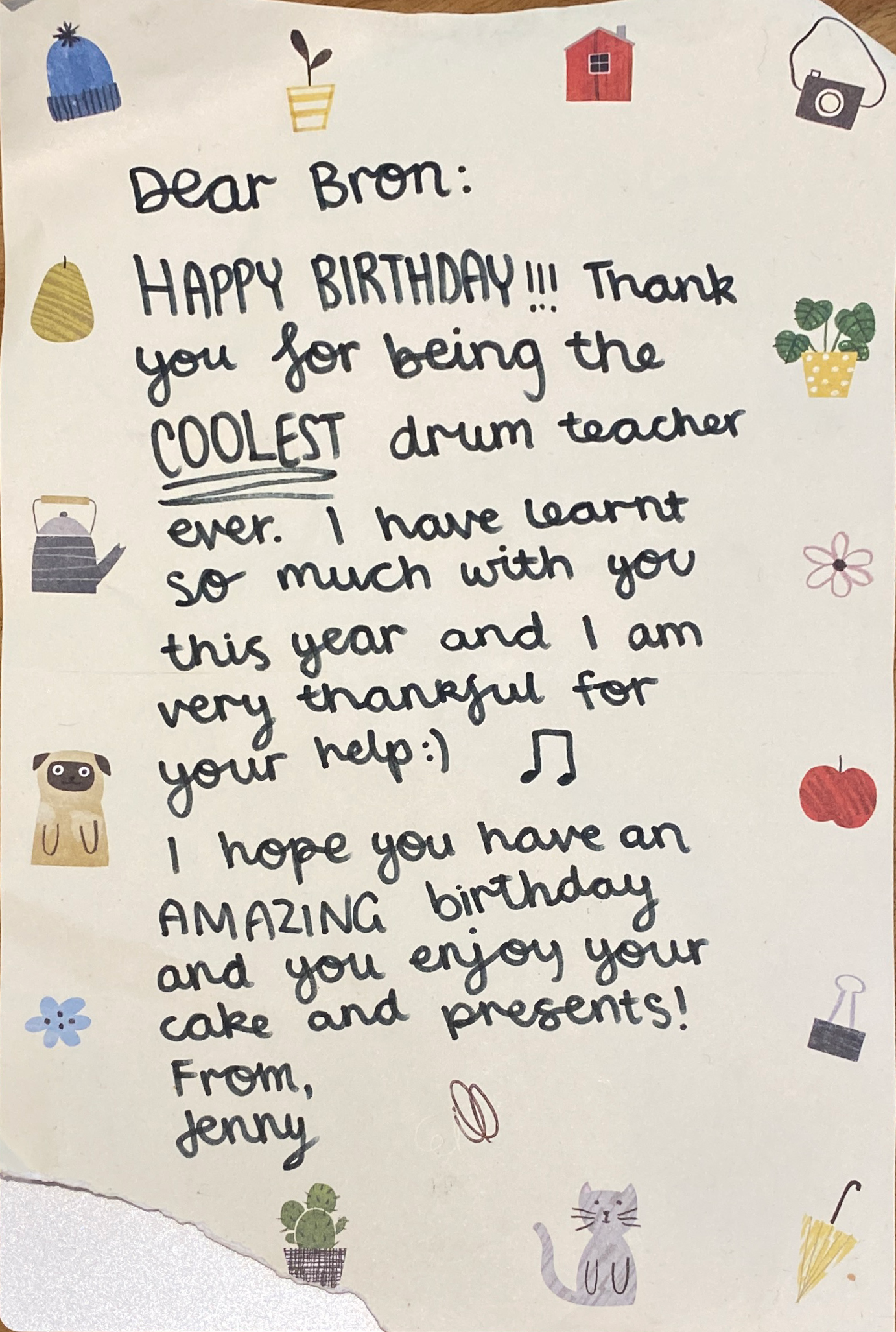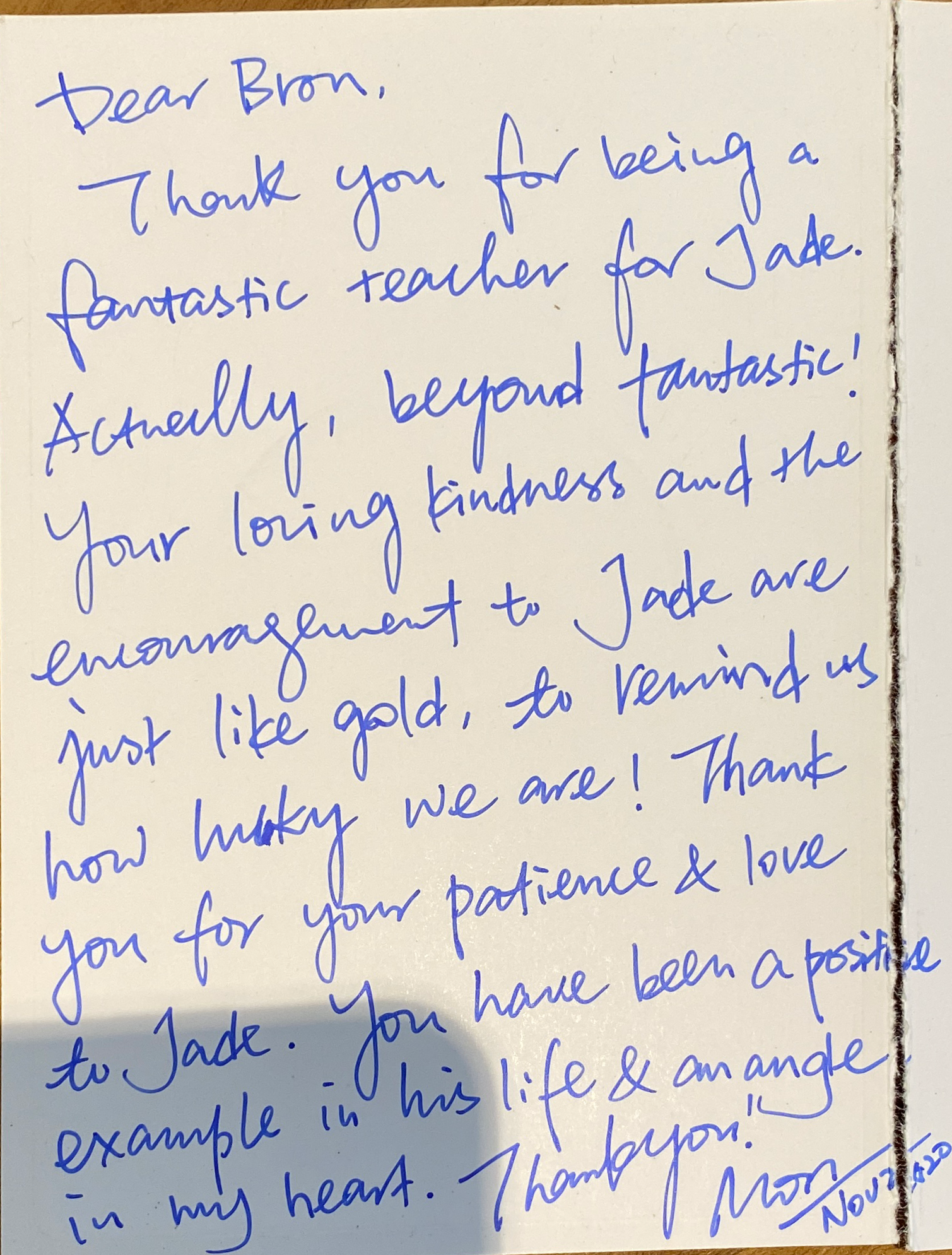 Bron was recommended to me by my School as a great and skilled drum and percussion tutor. She has tutored me for five years and in that time she has helped me to complete quite challenging musical pieces as well as improve my skills and technique. At school I was selected to be one of three drummers in the band.
As well as my favourite style: metal, Bron also taught me other styles like latin, bossa nova, disco and rock. She also taught my the other important side of music which is knowing the notes and the concepts in music which are crucial parts for being a skilled drummer/percussionists.
My brother and I have progressed through quite challenging musical pieces through the help of Bron and no matter what the problem, she will help us and has very strong faith in us. She also has very good advice towards spare parts and accessories for drums.
I have performed at multiple BRHYTHMIC concerts and my skills, in terms of performance, have been exceeded by quite a big percentage! I think it is a great idea to hold the concerts every year for all students as they all go home at the end of the day having benefited with their playing experience.
I highly recommend Bron!
Bron Harrison has been a drum tutor to my 15 year old son Tate since he was 11. She was recommended as a tutor when he joined the Curl Curl North Public School Training Band in Year 5 and was selected as 1 of the 3 drummers in the band. He then progressed to Junior Band in Year 6 and was awarded 'Band Member Of The Year'!
Bron has assisted the Curl Curl North Public School with their residential band camps at Camp Kedron providing on-on-one tuition and coaching in all drum & percussion pieces set for the bands.
Bron then took on tutoring my youngest son, 12 year old Sam when he also began with the school Training Band in year 4. Sam progressed through the Junior Ban and Senior Band during his time at Curl Curl North Public School. She has also assisted with both my sons in preparing set pieces for competitions the School Bands entered eg. Yamaha Band Competition and Northern Beaches Battle of the Bands. This support included additional tutoring sessions outside their normal lessons in the lead up to competitions.
Bron has ensured that both boys develop a sound knowledge of drum and percussion theory and has given them set pieces to master from a range of styles including latin, bossa nova, rock and disco. She has developed their knowledge of all percussion and drums including tuning drum kits and modifying the sound produced by the kids using different dampening techniques.
Bron organises an annual concert for students to perform where tutors help students to select a piece to perform which highlights their level of skill. She also provides a goals for students to work towards in the performance.
As a parent attending these concerts it give us great pleasure to see the progress of our own children and the other students at BRHYTHMIC.
I have no hesitation in recommending Bron for her many years of professional teaching in drums and percussion.
I have an 8 year old daughter, Amelia (Milly), who started with the school band this year and her instrument is the drums. I was a bit horrified at first that she was given the drums as we have the smallest little weatherboard house which is not very sound proof and we have no spare room and no garage so I couldn't imagine at first how this would possibly work.  Thank goodness for electric drums with head phones!
Anyway, the next task was to find a drum teacher.  I rang a few people and chatted to Bron, from BRHYTHMIC, who was so lovely and helpful.  She assigned Milly to one of her students who had recently become a tutor.  I was a bit worried at first about Milly having a tutor that was still at school but on meeting Will, we were instantly happy.  He is such a nice guy and such a good teacher.  So passionate about music and drums and so patient and such a lovely guy.  Will and Milly have such a great rapport and her drum lessons are going very well.  Milly has come such a long way this year with her drumming and did so well as the annual BRHYTHMIC concert playing her piece in front of tutors, other students and parents.  We were so proud of her.
I highly recommend Bron's business BRHYTHMIC, Bron herself who is passionate, professional and caring in regards to her students and their music and of course Will, Milly's wonderful tutor.
Thank you very much! We thought it was great that our daughter had an opportunity to perform in front of a group and also to hear other drummers perform. Thank you.
Thank you so much for your hard work, dedication and no doubt, patience with tutoring Luke this year.  He has really enjoyed learning the glockenspiel and his knowledge of music has improved in leaps and bounds.
Bron, you are the best mentor I have ever had.
Our son Louis began having lessons with BRHYTHMIC 12 months ago with no prior musical experience or even interest in learning an instrument. To say the teachers have had an incredible impact on our son, Louis, is an understatement – he has told us that they are the "best teachers ever!" He has achieved so much in such a small amount of time, earning 94% on his first exam and being awarded a distinction for Grade 2. We are so grateful to the team at BRHYTHMIC for sharing their love, enjoyment and expertise in their craft with Louis. He looks forward to his drum lessons each week – we don't ever need to ask him to practice. We look forward to many more years of learning and inspiration to come. We feel truly blessed.
The team at BRHYTHMIC are fantastic! My son (year 3) started with Peter at the beginning of this year and he has already developed a passion for drums. Normally a shy boy, he performed solo with great confidence on a stage in front of a large audience at the annual BRHYTHMIC Concert in September and we are very proud of his achievements in such a short amount of time. I asked him to tell me about Peter in only one sentence and without any hesitation he said: "Peter is a great drummer who is kind, patient and helpful!" We highly recommend BRHYTHMIC and wish them success in all their endeavours!
It has been a pleasure meeting you. I feel that it was a moment of fate. You're the strongest and kindest woman I have ever met. Thank you for everything. Excited for the future ahead.
My son Oliver started drum lessons with BRHYTHMIC in 2014.
He generally hides his musical interest but the team atBRHYTHMIC has brought it out in him so much that since then he has taken up Orchestral Percussion, attempted and passed his first ever music exam, become a part of a school Percussion Ensemble, performed in that ensemble and also performed as an individual on the drum kit at the BRHYTHMIC annual showcase… even surprisingly introducing himself and his piece on the day!
Whilst the team at bRhtyhmic makes sure he's learning the musicianship and technique he needs to, they also encourage him to "have a thrash" on the drum kit and to play songs he wants to play, so much so that no nagging is required for him to practice!
As a parent, to find teachers who inspire your child to play music, all sorts of music, to challenge them, and to build their confidence and self esteem, is all that you could possibly ask for.
Thank you bRhtyhmic, so very much.
Fantastic! Thanks so much.
The boys are loving the tuition sessions and Jack's actually excited about band practice – he usually hates getting up early but we've had no problem on band days  🙂 Thanks so much to you both for being such great teachers and being so interested and involved with the kids you coach, it's very inspirational!
Just letting you know that Harry was bouncing around this evening after the lesson saying it was the best drum lesson he has ever had. He thinks you are some sort of rock god, Luca! And now he won't stop practicing and go to bed 🙂
Our 9 year old started at BRHYTHMIC this year and we are just so impressed! His tutor that he sees every week is very patient, kind and encouraging and the group lessons are pretty inspiring for all the kids of varying ages and ability to get together and learn and encourage one another and feel a part of a bigger picture and group. Bron's enthusiasm and professionalism is so evident in her whole approach to the business. I wholeheartedly would recommend BRHYTHMIC to any young musician.
A brilliant Teacher, Bron Harrison helped break my daughters DYXLEXIA with the aid of drumming and then learning many more instruments in Percussion. You know how proud I am of you. A special person, in our life, I now call a dear friend. Thank you
Working in my role as 'Personal Admin Assistant' for Bron & BRHYTHMIC, for over 2 years, has been a positive and enriching experience. Bron is inspiring as she is so passionate about her company BRHYTHMIC and always strives to bring out the best in her staff and her students. I wish Bron, Jay, BRHYTHMIC & all the tutors, the best. Keep on drumming, you are doing an amazing job!
I've had the pleasure of working with several primary school students throughBRHYTHMIC for the past 6 months or so. The team of tutors here at BRHYTHMIC are all dedicated towards the musical growth of the students we teach and developing one-on-one relationship where students feel comfortable to ask questions and learn. With the endless amount of resources made available to me through the company, I get to teach others about my greatest passion which is drumming, which is a pretty invaluable experience!
"I wanted to add to some extra feedback about Bron Harrison.
Both my children have had music tutors in and out of school for the past 4/5 years, and I think Bron is one of the best music teachers I have dealt with.   From a parents perspective, she is extremely organised, provides feedback after every lesson and also advises what is for homework. She has inspired my son Stuart, so much that he is keen to practice every day, without being nagged at.
Stuart has really enjoyed his lessons with Bron and he has progressed quickly as she is very encouraging and so positive.
Stuart's said "she is so organised and a really nice teacher and she challenges me, and she is great at drums"
Thank you for all your co-ordination with my son and his music."